Atelierroute 2019
2 years, 7 months ago
Aktuelles
Kommentare deaktiviert für Atelierroute 2019
Drei Künstler laden zum Atelierbesuch an der Knock ein
Am Samstag und Sonntag, 14. Und 15. September fand die 15. Ostfriesische Atelierroute statt. 35 Künstler und Kunsthandwerker im ganzen ostfriesischen Raum öffneten an beiden Tagen jeweils von 11:00 bis 19:00 Uhr ihre Ateliers.
Zu diesem Kunstevent habe ich zwei Gäste eingeladen: den Maler und Zeichner Klaus Frerichs (Emden) und den Eisenbildhauer Lothar Feige (Gehrden, Greetsiel). So konnten die Besucher eine M ischung aus zwei- und dreidimensionaler, aus gegenständlicher und abstrakter Darstellung erleben. Bei Kaffee und Kuchen gab es im Haus und im Garten viele interessante Gespräche .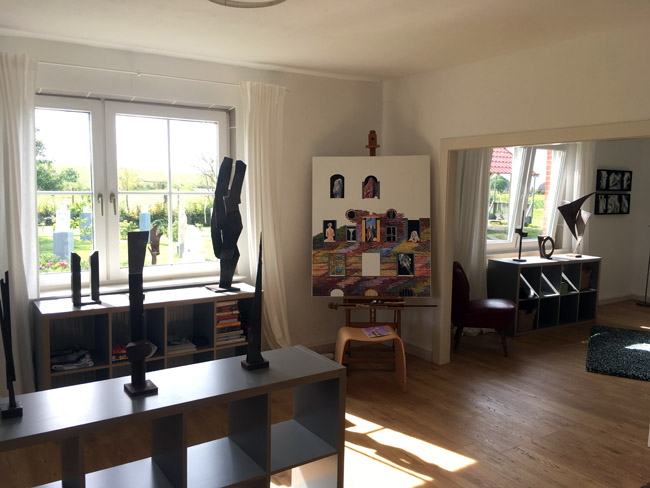 Lothar Feige
"Ich suche und sammle, trenne, schneide und biege, schweiße und schmiede, finde und erfinde. Das Ergebnis sind veränderte Formen und Werkstücke. Mein Material ist Eisen. Es erhält neue Gestalt, durch Feuer und Hammer; zusammengefügt im Schweißprozess; neue Farbe durch Wärme in der Esse und plötzliches Erkalten im Wasserbad." Weitere Infos: www.eisenbildhauer.de

Klaus Frerichs
Im eigenwilligen Stil seines "erzählenden Realismus" entstehen detailreiche Gemälde und Zeichnungen, die den Betrachter unwillkürlich in ihren Bann ziehen. Sie erzählen nicht von äußeren Ereignissen, sondern von inneren Wahrnehmungen, an denen er uns teilhaben lässt. Weitere Infos: www.klausfrerichs.de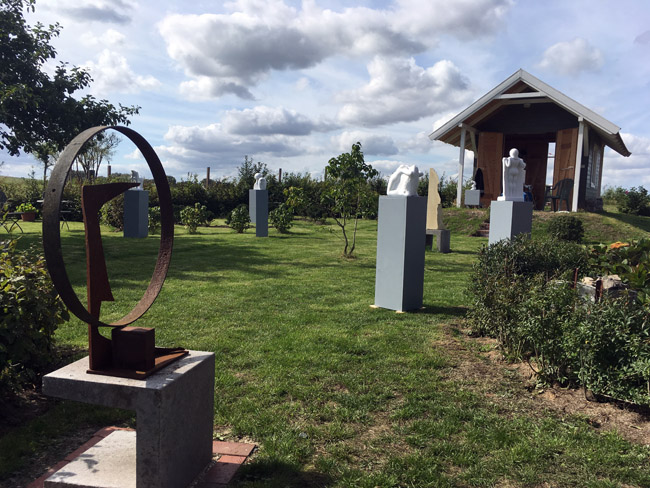 This entry was posted on Mittwoch, Februar 19th, 2020 at 12:41
You can follow any responses to this entry through the RSS 2.0 feed.