Erster Bildhauer Workshop in Schlichthorst
8 years, 4 months ago
2014
Kommentare deaktiviert für Erster Bildhauer Workshop in Schlichthorst
Was zunächst als Experiment gedacht war, entwickelte sich zu einem spannenden Gemeinschaftserlebnis für sogenannte "Normale" und sogenannte "geistig Kranke". Insgesamt neun Teilnehmer fanden sich vom 16. – 18. Mai im malerischen Park der Wohnanlage Günter-Stork-Haus in Schlichthorst zusammen und tauchten gemeinsam ab in die Welt der Steine.
Unterbrochen wurde die konzentrierte Arbeit von gemeinsamen Pausen und Gesprächen. Die Arbeit am Stein, der intensive Austausch über die gewählten Motive und die für alle gleich große Herausforderung, einer ungewohnten, "steinharten" Aufgabe schaffte sofort Brücken zueinander.  Von morgens um neun Uhr bis in den frühen Abend hallte das dezente Ticken von Hämmern und Meißeln durch die Anlage.
Am Sonntag, bei Abschluss des Workshops, waren vor allem auch die Steinkünstler selbst überrascht, zu welchen Leistungen sie fähig sind. Es entstanden neun eindrucksvolle Arbeiten, die jede für sich eine Geschichte erzählen können. Schon jetzt gibt es in Schlichthorst Überlegungen, evtl. in Zukunft die Bildhauerei in den festen Veranstaltungsplan aufzunehmen.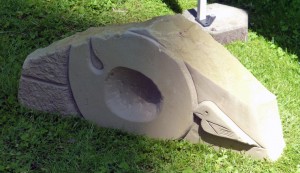 This entry was posted on Mittwoch, Juni 4th, 2014 at 10:42
You can follow any responses to this entry through the RSS 2.0 feed.