Sich selbst verrücken
7 years, 3 months ago
2015
Kommentare deaktiviert für Sich selbst verrücken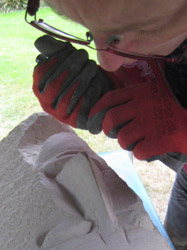 Bildhauer Workshops 12. bis 14.06. und 19. bis 21.06.2015
In zwei Bildhauer Workshops trafen sich an den vergangenen beiden Wochenenden jeweils von Freitag bis Sonntag Menschen mit unterschiedlichen Wahrnehmungswelten. In den AWO-Einrichtungen in Schlichthorst und in Rastede machten Bewohner gemeinsam mit externen Teilnehmern Erfahrungen mit dem Stein.
Die fertigen Arbeiten sind der eine Aspekt dieses "Tanzes mit der Langsamkeit". Der andere Aspekt ist die Erfahrung, sich selbst ein klein wenig aus dem Alltag verrückt zu haben.
Im nächsten Jahr soll es weiter gehen …

This entry was posted on Dienstag, Juni 23rd, 2015 at 12:18
You can follow any responses to this entry through the RSS 2.0 feed.