Teilnahme an der Greetsieler Woche
4 years, 10 months ago
2017, Aktuelles
Kommentare deaktiviert für Teilnahme an der Greetsieler Woche
Die Greetsieler Woche ist eine Traditionsveranstaltung, die jedes Jahr Künstlern aus ganz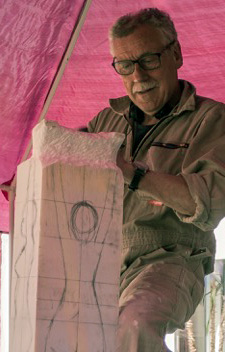 Deutschland und den Niederlanden eine Plattform schafft, um ihre Arbeiten einem breiten Publikum vorzustellen.  In  diesem Jahr waren vom 02. bis zum 09. Juli 2017 insgesamt 17 Künstler in der Schule des Fischerdorfes vertreten. Mit meinen Bildhauerarbeiten hatte ich die Möglichkeit, die komplette Eingangshalle zu bestücken.  Während der Öffnungszeiten habe ich die Zeit genutzt, um vor Ort an meiner Skulptur "Nike" zu arbeiten. Die Greetsieler Woche war eine spannende Zeit des vielfältigen Austausches mit den interessierten Besuchern und den vielen Künstlerkollegen.
This entry was posted on Donnerstag, November 30th, 2017 at 12:33
You can follow any responses to this entry through the RSS 2.0 feed.